Welcome to Tokyo Great Santa Run 2021
We will be holding the very first online Santa Run this year in 2021!
About Tokyo Great Santa Run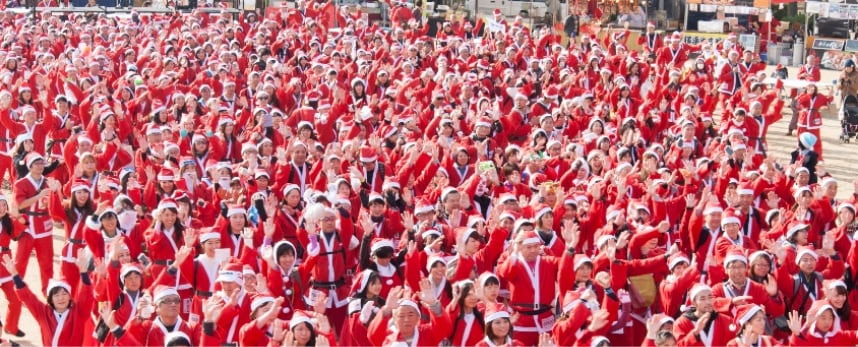 Charity fundraising/running event?
to raise money for delivering/handing out christmas present for hospitalize children in Japan

Tokyo Great Santa Run is a fun charity running event with participants wearing Santa Claus costumes. The first Tokyo Great Santa run was held in 2018 with a great success, and is coming back this year!? The profit of this event will be used to deliver/prepare christmas presents for hospitalized children in Tokyo area We also donate a part of our funding to support two projects of Save the Children: one that aims to provide clean water for Maasai communities in Kenya and the other that aims to provide medical and educational care for sexually exploited girls in Philippines.

Tokyo Great Santa Run believes that young people can make a difference for better world by using their gift. The theme of the Tokyo Great Santa Run is "Youth Helping Youth through the Fun run and walk". We are honored to host thousands of youth runners for social causes.

Tokyo Great Santa Run is organized by Great Santa Run Student Assembly, which is composed of nearly 50 university students from all around Japan. There will be 4.3K Fun Run in the morning and 2K Fun Walk in the afternoon. You can enjoy not only the run/walk but also some fun games, workshops, food tents, stage performances, face paints and more!

=2021 update=
Due to the world-wide COVID-19 pandemic, our in-person event, Tokyo Great Santa Run 2021, has been canceled. Instead, we will be holding an online event called Great Santa Run: Virtual later this year. As for the register, ~. You need to instal the smartphone app called "" in order to join our online running event.

Great Santa Run: Virtual – How does it work?
~
Our mission/? is not limited to just handing out Christmas gifts for hospitalized children. It is also about sharing our joy/happiness/christmas spirits.
Christmas gifts do not have to be physical objects such as toys, books or stuffies. Those/they can be act of kindness/sharing our talents/gifts that make children happy.
Event Summary

Date
Sunday, December 22, 2019
Location
Komazawa Olympic Park
1-1 Komazawa-kouen, Setagayaku 154-0013 Tokyo
Run: Registration 9:30am- / 10:30am Start
Fun Walk : Registration 10:30- / 1:00pm Start
Opening Ceremony : 12:20pm

Proceeds
The proceeds from this event will be used for sick children staying in the hospital in Japan and for Maasai communities in Kenya. Free The Children Japan is our charity partner for the project in Kenya.
Entry Fee
Adult Santa¥3,300-
Student Santa ¥2,200-
Kids Santa (age3~Junior-High) ¥1,100-
*you can select [Run and Fun Walk] or [Fun Walk only]. (same price)
Santa costume
One size only (Adult, Student), Santa cap only (3 yrs ~ Jr. high student)